Michelle Dubreuil Macek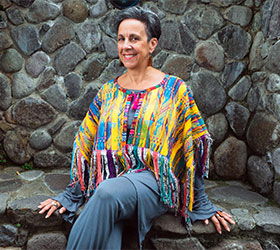 Certified Life Coach, Didact Biodanza Movement Facilitator, Certified Hypnotherapy Practitioner, Certified Qigong Teacher, Yoga Teacher YT500hour, and Certified Ayurvedic Wellness Coach
Phone: 410-736-9311
Email: info@biodanzausa.com
Classes: Biodanza
Michelle is a Didact Biodanza Facilitator who trained in Johannesburg, South Africa (2007) as well as with the founder Rolando Toro in Brazil and Italy (2010). She has completed extensions in Biodanza for Voice & Percussion, Children/Families and Biodanza for Organizations.
She is a certified life coach, Reiki master, Qigong and Yoga teacher and currently pursuing Level II in the Shakti Ayurveda School to become an ayurvedic counselor. She is also a minister in the Sanctuary of the Beloved and officiates weddings, births and transitions.
With all of these above mentioned modalities, Michelle opens space for her clients to guide them to create the best environments in which to thrive.
Visit Michelle Dubreuil Macek's website.