Biodanza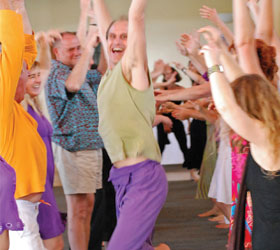 Biodanza is a healing system of human development that fuses music, heartfelt emotion and authentic movement providing a safe space for you to express your many potentials. It is a non judgemental space where all are welcome no matter age, race, spiritual tradition or sexual orientation. Biodanza is here to give value to your life!
Biodanza classes meet regularly and stimulate five major human potentials: vitality, sexuality, creativity, affectivity and transcendence.
Biodanza classes create a space for you to increase your resistance to stress, expand your creativity, vitality & ability to love, feel the fullness of every moment and awaken your passion and motivation for life, open your sense of joy, self-esteem and self-confidence, tenderly integrate feelings, mind and actions, improve your health and organic harmony, have fun!
Dates and Time:
Winter 2013
Wednesdays from 10:00am to 12:00pm
From January 9th to March 27th, 2013
Winter 2013
Thursdays from 7:30pm to 9:30pm
From January 10th to March 28th, 2013
Spring 2013
Thursdays from 7:30pm to 9:30pm
From April 11th to June 27th, 2013
Pricing:
Instructor:
To register for classes and for more information, please call 410-736-9311 or visit the Biodanza website.
Calendar: