Erin Smith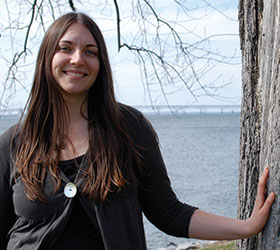 Licensed Acupuncturist
Phone: 410-490-3346
Modalities: Acupuncture
Erin Smith, MAc, LAc. is a Licensed Acupuncturist and board certified Chinese herbalist in Maryland and Oregon. Erin graduated with honors from the School of Classical Chinese Medicine at the National College of Natural Medicine in Portland, Oregon, where she received her Masters of Acupuncture degree. Originally from Maryland, she brings her passion for Chinese medicine and helping others back to practice in her homeland.
Erin's mission is to provide those who are suffering from disease and pain the help they need to bring their mind, body, and spirit back into its natural alignment and balance. Erin uses the ancient modalities of Chinese medicine, including acupuncture, herbs, moxibustion, cupping, medical astrology, so tai and tui na body work, and lifestyle counseling, to inspire and empower change and healing. Her hope is that after a treatment, patients leave not only feeling relaxed and renewed, but also with practical strategies and greater wisdom to improve their health and well being.
More information about Erin and her practice can be found on her website, www.erinsmithlac.com.