Cecilia Gaelano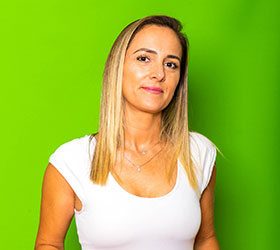 Cecilia hails from Argentina/Bolivia and is a Facial Yoga practitioner. She has two beautiful children and has been a beautician for the last 14 years working in the Washington, DC, area. For the first 12 years, she dedicated herself to skincare doing facials and lasers. In recent years, she has dedicated herself to learning and growing her knowledge of natural treatments with another purpose. She chose Facial Yoga Certification for many reasons, but the main one is connecting the body, mind, and energy with the health and appearance of the skin. In the past year, she has offered online workshops and 1-1 sessions to teach natural techniques to care for the skin and is excited to now offer sessions at Blueberry Gardens.
Beauty begins from the essence of oneself inside and outside too...
You can learn more about Cecilia Galeano's work at www.lumina-skin.com.